NIL Impact - Unveiling the Setting the Standard - Growing the Game Initiative
Team Tampa Bay's Take with Joey Johnston:
By Joey Johnston
When the season-opening Road 2 Tampa Bay Volleyball Invitational arrives on Aug. 25-26 at downtown Tampa's Amalie Arena and USF's Yuengling Center, it features dynamic qualities for everyone.
There's an incredible field — the Penn State Nittany Lions, Florida Gators, Georgia Tech Yellow Jackets and home-standing USF Bulls — that will tip off the college volleyball slate with everyone hoping for a December return to Amalie when the Final Four hits Tampa.
There are legendary head coaches, All-American players and brand-name programs that are certain to positively showcase the fast-moving, fan-favorite sport, which is cresting in popularity at all levels.
The Tampa Bay Sports Commission (TBSC) will also offer a ground-breaking use of the modern wrinkle that has changed college sports forever — Name, Image and Likeness (NIL) deals for some of the participating athletes.
NIL has come into mainstream use during the past two years, allowing college athletes to connect with companies, products, or causes, while earning compensation for the use of their name, image or likeness.
"Certainly, you can't have a discussion about college athletics right now without talking about NIL,'' said Rob Higgins, executive director of the Tampa Bay Sports Commission, which is hosting the event along with USF. "Our goal is to help set the standard and grow the game when it comes to being part of college volleyball's trajectory.
"When we talked as a staff, we saw an opportunity to help showcase our community and highlight the continued growth of the game. These student-athletes will be great ambassadors for their sport and our organization. Our staff has really enjoyed getting to know them and it's going to be great to partner with them throughout this initiative.''
Two players from each participating team — setter Bella D'Amico (Georgia Tech), setter Tatiana Johnson (USF), outside hitter Ragan Kinard (USF), libero Elli McKissock (Florida), middle blocker Liv Mogridge (Georgia Tech), setter Mac Podraza (Penn State), setter Alexis Stucky (Florida) and middle blocker Taylor Trammell (Penn State) — were selected as the TBSC's NIL Brand Ambassadors based on their performances on and off the court, plus their community involvement.
As part of the TBSC's Setting the Standard — Growing the Game campaign, the players will promote their sport and Tampa Bay's reputation as a premier destination for sports events with social media posts and appearances on the TBSC's "Gameday. Every Day'' podcast.
The teammates will jointly create and post their own Setting the Standard — Growing the Game promotional video that will live on their Instagram timelines through August. When the players are together in Tampa Bay, they will record a joint TikTok and Instagram reel. They will also participate in a 30-minute meet-and-greet with local youth, and autograph up to 10 items for promotional purposes.
The TBSC NIL Brand Ambassadors will each receive $1,500 — plus a $500 contribution per pair of athletes from each school that will go to a local charity (in a post-match check presentation).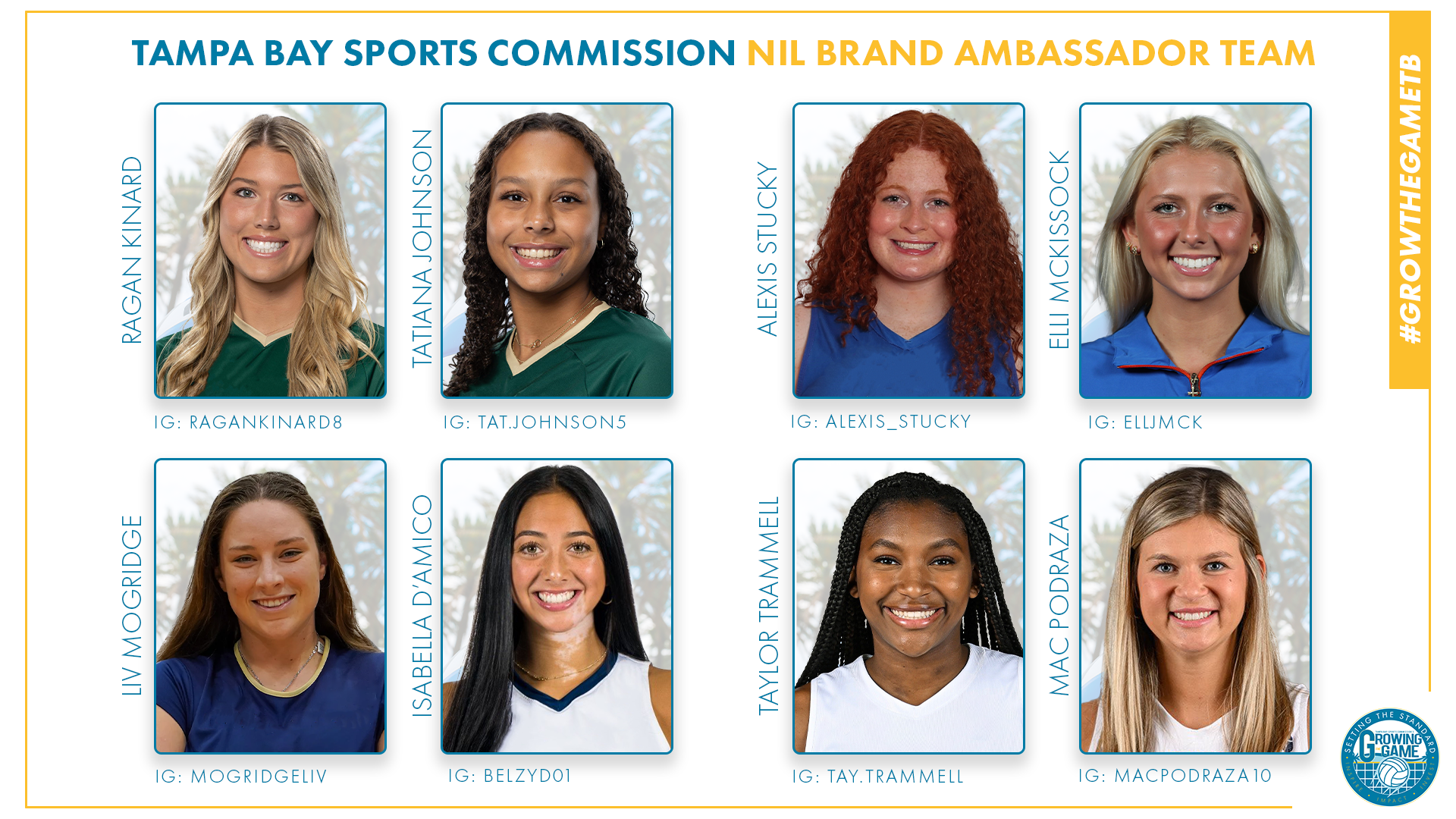 "I've had family members who were (college) athletes in the past and they received zero opportunities like this, so I feel like athletes are getting rights now that have always been well-deserved,'' Penn State's Trammell said. "It's a chance to engage with fans, engage with the community and build our brands.''
Trammell is not new to the NIL game. She has deals with Crocs, Insomnia Cookies and Hey Dudes (a shoe brand).
"These are all products I grew up using, loving and now I get to promote them,'' Trammell said. "The athletes get to sample what it's like to run their own business. We get to identify with products we believe in. We're really grateful to the Tampa Bay Sports Commission because we feel like we are true partners in promoting the game we love.''
D'Amico, of Georgia Tech, said she attended a NIL Summit in Atlanta earlier this summer, learning how the so-called "non-revenue'' sports have a beneficial new avenue for attention and compensation.
"Of course, we hear about football, men's basketball, and women's basketball getting these NIL deals,'' D'Amico said. "But gymnastics, golf, and certainly volleyball — sports that sometimes fly under the radar — can get a real platform and a real voice. It's extremely exciting and we will get great opportunities to network and interact in Tampa.''
Even beyond the compensation and brand-building opportunities, the student-athletes said they are enjoying learning about the behind-the-scenes work that goes into a marquee sporting event. Generally, college athletes arrive at competition sites for warmups and games with little knowledge of what it takes to stage the event.
"I feel like I've already learned a lot about the amount of people and planning that is necessary for an event like this,'' USF's Kinard said. "It makes you grateful for all the people that maybe you take for granted at times. What's being done for us and the four teams, it's completely first-class.''
"It's incredible that we can associate ourselves with something we love, get a paycheck and hopefully have a positive impact on a lot of people,'' said Florida's Stucky. "My mom coached college volleyball (at Wyoming) and when I was younger, I know how much I looked up to the girls she was coaching. I'm really excited to possibly do that for some little girls and be part of growing this game. I think it's such a win-win.''
USF coach Jolene Shepardson, a former Bulls player, said NIL represents progress. She remembers a player, just a few years ago, who wanted to run a volleyball camp in her hometown, using her name and social media sites for promotion. She was told no because it violated a rule.
"People think NIL is this thing that generates thousands of dollars and there's great excess, when in fact it's mostly athletes who are looking to do some good,'' Shepardson said. "As an adult, I've learned to manage my money. And as a coach, I feel like I'm constantly marketing my program. But I had no background in finance or marketing coming out of college. I never had that opportunity. With NIL, these young ladies are learning about these things and how to brand themselves. That can only be beneficial for them post-graduation.''
The event's coaches praised the NIL initiative and said they appreciated the Tampa Bay Sports Commission's foresight.
"I think NIL is a great thing when done in moderation and approached for the right reasons — and that's what we'll have in Tampa,'' Georgia Tech coach Michelle Collier said. "When you get these opportunities to grow your brand, it comes with responsibility. This is very well thought-out and I believe it will benefit everyone.''
"In a lot of ways with college sports, we're living in a crazy world these days,'' Penn State coach Katie Schumacher-Cawley said. "I'm happy these players can make extra money by doing what they love. We're lucky at Penn State because our school does a great job of including all 31 of our sports. The Tampa Bay Sports Commission's approach is a great example of how doing NIL the right way can benefit our sport.''
"I'm all for our volleyball players to receive these NIL opportunities and it's truly wonderful to see how their impact and their voices are being understood by businesses and donors,'' Florida coach Mary Wise said. "What's happening in Tampa is another example of why it's a great time to be a female volleyball player right now.''
Other Stories
Growing the Game with Taylor Trammell and Mac Podraza
Growing the Game with Liv Mogridge and Isabella D'Amico
Growing the Game with Ragan Kinard and Tatiana Johnson